Attack 2023-2024 Season Updates
---
---
Fan Clothing Store
Site: midwesttrophycb.com
Click on the Attack Volleyball Link in the top ribbon.
Password: Attack?
Please read the instructions at the top of the store page for instructions on ordering.
Order questions: contact Midwest Trophy at 712-323-7377.
---
Uniform Update
All uniforms have been ordered and will be delivered to practice as received.
Practice tees will be handed out at each age group's first practice (12/4 and 12/6).
Other uniform pieces will be available in January.
---
Raffle Tickets
We will collect raffle tickets starting in late December.
Raffle drawing will take place at the intraclub tournament in January (date TBD).
---
Account Balances
Cash or check can be brought to any practice and given to Mark.
If you would like to run a credit card, please call Kacie at 712-358-1153.
---
Scorekeeping & Reffing
ALL players (new and returning) must take the scorekeeping and reffing clinics this season.
Clinics are posted in the USAV Academy which can be accessed through Sports Engine.
---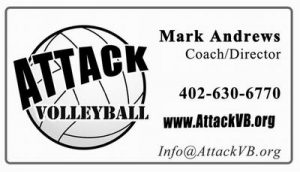 .

.